workshops, knit and crochet classes.
NEW WORKSHOP with Willina Collins COMING UP!! Sat afternoons June 20 and 27, 1-3, learn Round Socks on Straight needles! $40. Aran weight yarn recommended, light coloured yarn, with needles aprropriate size for the yarn. Straight or circular can be used knitting back and forth. Call now and reserve your space with a deposit! 604-275-1239
Next Friday morning class!! Beyond Beginners, May 15 - June 19, 2015. $85 for 6 weeks. There will be a break for a few weeks after this class, as teacher will be on holiday. Join Edita for help with that project you are dying to tackle but know you will need help! This is class that you have been waiting for, because you can knit anything you want and the teacher will be able to guide you with whatever it is! If you aren't sure what you want to make in class, come on in and see all our samples, which you can try on and see what the finished product looks and feels like. Or, choose from our many patterns for just about anything!!
You might have missed the coolest event ever having taken place at Wool & Wicker in the coming on 18 years we have been here in Steveston. 3 full days at the feet and in the thrall of Cat Bordhi, knitting teacher,author of 1 prize winning novel, 8 knitting books displaying a knowledge of manipulation of stitches of extraordinary genius, numerous knitting patterns, mentor of other visionary authors, knitting tour leader, philanthropist and inspirational human being. Don't miss her again. You won't be sorry. Please take some time to explore her accomplishments and even if you are not inspired to knit any of her designs, help her with her vision of contributing to the work of Dr. David Krag, who is researching the cure for cancer, by purchasing her PDF book Art of Felfs where all of the fee for the download goes to his research. We offered this workshop for our weekend with Cat, but the workshops that happened had the most interest. We have some samples in the store, and saw many lovely ones that Cat had with her. These boots/slippers make fabulous gifts for everyone, sized for every human! Also a fabulous pattern for teaching children to knit! All in garter stitch that they can handle, and they will be amazed to see the transformation after you seam their slippers and felt them in your washer. Watch them get hooked on knitting! SEE HER WEBSITE CATBORDHI.COM.
.
VERSATILDES - A NEW LANDSCAPE FOR KNITTERS -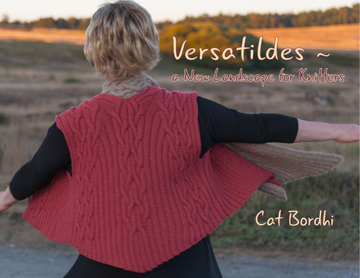 MAKE A WRAP, SCARF, VEST OR SKIRT with this new easy to knit shape in rib and reversible cables
.CAT'S NEWEST BOOK PDF @ catbordhi.com/books/versatildes.
Cat wants knitters to know that many yarn shops are now affiliated with Ravelry, so you can help your favourite shop survive by downloading her PDFs by buying in store on Ravelry through the store. You can call the store and see if they are partners with Ravelry, and give them your credit card info to download your preferred patterns, and have them sent to your email address where you can download them to your device or print them out. -
Note! Wool & Wicker now has stock of Frog Tree Ewetopia in most colours available for your projects, see colours below
SEVEN SUPER SKILLS COWL - pdf downloadable from catbordhi.com/patterns/seven-super-skills cowl, $12US.

COMBINING TUTORIALS ON 7 OF MY MOST APPRECIATED TECHNIQUES IN A VERSATILE COWL, CROCODILE CAST-ON, GUIDANCE ON DIGESTING ILLUSTRATIONS AND CHARTS; HUNGRY STITCH, NIFTY MOVES TO CROSS PAIR OF STITCHES; LEARNING TO READ YOUR KNITTING JENY'S SURPRISINGLY STRETCHY BIND-OFF, FINISH A CIRCULAR EDGE WITH A CONTINUOUS CHAIN.
PERSONAL FOOTPRINTS FOR INSOUCIANT* SOCK KNITTERS
We have copies of this book available at Wool & Wicker.

* Insouciant (that cheerful feeling you have when nothing is troubling you)
KNIT PERFECTLY FITTING SOCKS WITH NO SHORT ROWS, NO STITCHES TO PICK UP, NO GAUGE CALCULATIONS, NO GUSSETS, NO HEEL FLAPS, AND NO GRAFTING!
SIGN UP FOR OUR BEGINNER KNITTING CLASS THAT COULD START IN THE NEW YEAR, 10-12 am WITH HEATHER. WE GIVE YOU YARN AND NEEDLES TO LEARN AND PRACTISE WITH, AND WHEN YOU DECIDE WHAT YOU WOULD LIKE TO MAKE, YOU PURCHASE YOUR NEEDLES AND YARN FOR THE PROJECT, AND YOU GET 10% PERCENT OFF EVERYTHING YOU BUY WHILE IN CLASS. CALL THE STORE WITH YOUR DEPOSIT 604-275-1239 FROM 10 TO 5:30 TUES. TO SAT.
Wool & Wicker is presenting a series of classes designed to satisfy the need to learn new things and finish up those almost dones. To register for any of the following classes or Workshops please call 604-275-1239 or drop in to the store at 120-12051 Second Ave. in Steveston.
As a follow up to Crochet - A new Beginning we are offering Crochet - The Next Generation, a project based class starting Monday nights 2015, 7:00pm – 9:00pm for 6 weeks. This is a project based class where you purchase your pattern and yarn from Wool & Wicker and Willina will be there to help with any challenges that arise. Cost of class is $85 (not including supplies).
Classes and Workshops fill up fast so if you are interested in any of the classes or workshops be sure to contact us right away and get your name on the list.
Please note: We have classes ongoing, so if you don't see a start date for the class you would like to attend, please call the store and get your name on the list for the next class. Just can't keep up to date with changing start dates!
Beginner Knitting class with Heather. Sundays in 2015, at 10-12PM, Learn to knit with Heather with our yarn and borrowed needles, and then choose your project and yarn and knit your first project! We have had students knit a coat in this class! Yes you can!! $85 for 6 weeks. Call now 604-275-1239 and get your name down for this class!
New Class! BLAST THOSE UFOS! Edita would like to help you finish your UFO'S!! Unfinishing objects, for those who don't know. Every knitter has at least one of these! For whatever reason, we're stuck, it's boring, he's gone, hate the colour now, just a few of many stalling reasons we just can't seem to get it done. Join other knitters and have fun concentrating on one project for this class and get help from the teacher as you whip along! Or bring all your smaller UFO projects and finish a bunch of them! Don't be shy! We all get stuck sometimes, even me, who has knit for 50 years! "What the heck does this mean? Oh, well, I will just start something else!" We could do this Monday nights, 7-9PM, or Friday nights, 7-9PM. $85 for 6 weeks, MIN. 5 STUDENTS, MAX. 8. 604-275-1239
Edita's classes for Beyond Beginners will go Wed. night, 7-9PM, and Fri. morn., 10-12 noon, $85 for 6 weeks, choose your project and pattern here and get help throughout. This is a choose your own project class, you can learn to knit socks, fair isle, intarsia, entrelac, lace, or whatever you like, in our Beyond Beginner classes, so get your name and deposit in now to hold your place, Max 8 students. 604-275-1239
Beginner Crochet: 6 weeks, $85. Have a fun class, and learn to crochet. You won't believe what you can make in this class! Limit of 8 students so you get personal attention. We provide yarn and hooks to learn with, when you decide on 1st project, hooks are returned and yarn & hooks are purchased. You get a 10% discount on all purchases while in classes. Get your name on the list for the next class. Get in touch with Diane, 275-1239
Advanced Crochet: Tuesday nights, 7-9PM, for 6 weeks, $85. Sign up now for classes starting in 2015! If you know the basics of crochet, you will want to learn advanced from Nel Demir. She looks at a picture and can duplicate it off the top of her head. If you have something that you want to duplicate, take this class from Nel, and she will show you how. If you have an heirloom item that needs replacing, Nel can show you how. If you can only follow the English or American written out patterns, and want to be able to read and follow the international standard symbols in Japanese and European crochet magazines, Nel can teach you those. You may just want to learn new stitch patterns, you can learn those in this class, and put your samples together and make a throw, baby blanket, shawl, or whatever you would like to make with them. If you are left handed, and thought you could not learn to crochet, learn from Nel.
basic knitting skills required (you can cast on, knit and purl).
For all of our classes yarns must be chosen here before class. We try to keep the class fees as low as possible, and it all goes to pay our wonderful teachers and a class organizer. Those students who bring their own yarn purchased elsewhere make it difficult for your wonderful shops to keep offering classes.
Intermediate Knitting: With Willina Collins, Saturday mornings, 10:30-12:30PM, and afternoons 1-3PM, $85 for 6 weeks, starting May 30 until July 11/15. Knit your choice of project. Challenge yourself beyond the basics. Pick a project which you think is above your ability, and grow beyond your wildest dreams! You will learn so much in this class, because you learn from what the others in class are doing as well. Call the store AT 604-275-1239 and sign up now. You may also join this class as a drop in, $20 per class, or a make up if we have enough room. Please call in advance. We can still start an afternoon class from June 13/15, from 1-3PM.
Also:
With Edita Michalek, current president of the West Coast Knitter's Guild.
We now can also offer beginner and beyond beginner knitting with Edita Michalek on Friday mornings, 10-12, and Wednesday nights, 7-9PM. 6 weeks, $85, starting May 27th to July 8th/15. Limit of 8 students, so you get personal attention. For Beginners, we provide yarn and needles for you to learn with, when you decide on first project, needles are returned and yarn and needles are purchased. Call us and get in a deposit to hold your place! Or, get your name on the list for the next class. 604-275-1239